Adding a product to the Simple Store is incredibly easy! Get started by adding the Simple Store section to your page. Click 'Store" and select the green "Add New Product" button.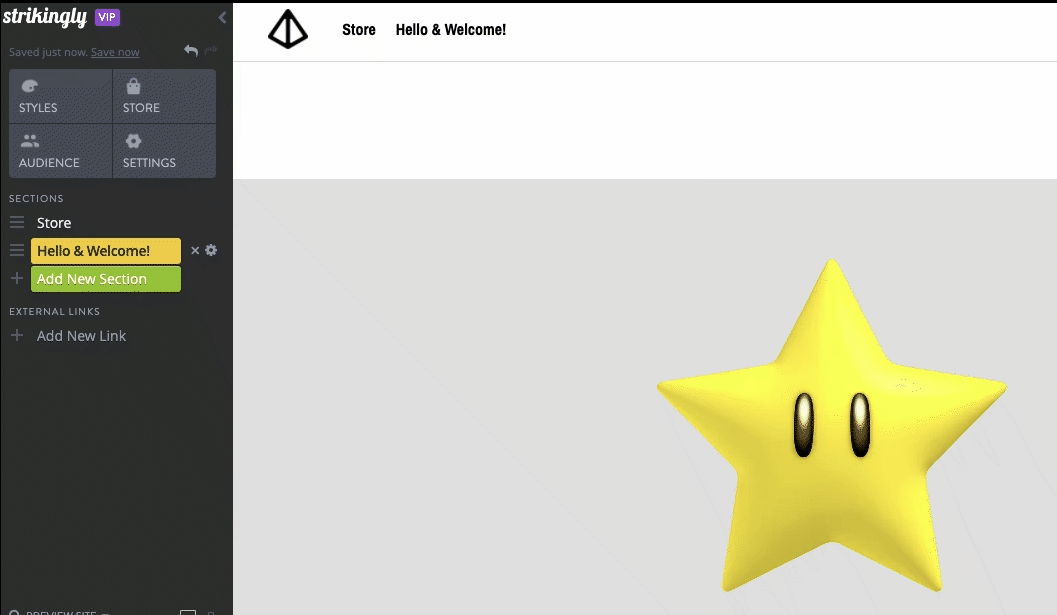 Adding Product Information
In the product editor, use the Product Name, Description, and Image fields to add your product information.
Click on the "UPLOAD IMAGE" button and pick up images from your local disk or "UPLOADED IMAGES". You can upload up to 10 images for every product.
Managing Product Images
To replace an image, mouseover an image, click on replace icon, then pick another image from your local disk or uploaded images panel.
You can set any image as a cover image by clicking on Set as Cover Image button (the image icon).
Getting the Product URL
You can copy the product URL from the top right corner of the product editor and share it with your customers directly, or you can share product URL on social media to drive more traffic to your online store.
PS: The product URL will appear after you save the product and edit it again.
Pricing & Product Options
In Pricing & Product Options, you can set the price and inventory for your product. You can also add product options, like size or color.
If you have color or sizing options for your product, click on "ADD OPTION" button to add more product options.

Tip: If you want to change the currency for your pricing, you can go to Store Settings > Payment > Store Currencies, and then select the right currency for your store.
Managing Inventory
Inventory amount is set as Unlimited by default, you can change the number according to your inventory status.
*Tip: You will get an email notification if your stock is running low.
Adding Product Categories
Click here to see how to add categories for your products.
Shipping Option
If you're selling a physical product that you need to ship, check off "Shipping info required from your customer" option to collect your customer's address.
*Tip: You can set up shipping rates for different regions in the [SETTINGS] panel of your store manager.
If you don't have to collect the shipping address from your customers, make sure the shipping option is unchecked so your customers don't have to fill out the shipping address in the checkout flow.


Detailed Product Page Description
Product Page Description is a Pro feature. To add Product Page Description, go to store manager, click on a product to edit, scroll down to "Product Page Description" section, check "Show detailed description on the product page." option, then add text and images to the input field below. Users can add up to 10 images for a product.
After setting up the Product Page Description, it will be shown in the "More Details" section on the product page.
Launch Your Product
After you're finished with uploading your product information, be sure to hit [SAVE] to launch your product!
Need help setting up digital download products?
In case you need assistance, shoot us a line at support@strikingly.com or chat with us.