This guide walks you through the process of hooking up your Register.com domain to your Strikingly site.
You can send this tutorial to your registrar if you need help or if you'd like us to connect your domain for you, send us the info here!
Step 1. Inside the Strikingly editor, go to Settings -> Domains and specify the domain you'd like to use for your site, such as "www.yourdomain.com". Then click "Update."
Notes: Make sure to type your domain in lowercase to avoid the "Page not found" error when accessing your site.
Step 2. Edit your Register.com domain settings.
1.Login to Register.com > click Your Account 
2. Click "Basic Website Forwarding".
3. Point mydomain.com to http://www.mydomain.com 
4. Click continue > double check your domain setup > click continue again
5. Once redirected to your Account page, click the domain you are working on to see the advanced settings.
6. Scroll down. Click "Edit Domain Aliases Records".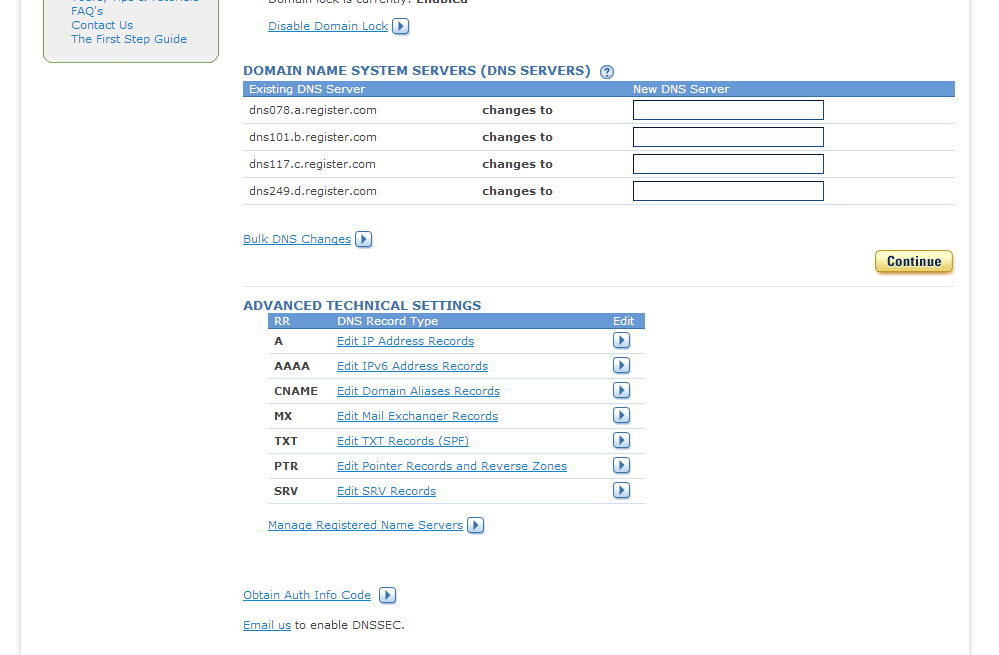 7. Point www to dns.strikingly.com. Click "Continue" > click "Continue" again
8. Keep the IP Addresses provided by Register.com (Edit IP Address Records)
9. Done! Please allow several hours for these settings to take effect. Your domain will now be pointing to the Strikingly servers. Be sure to clear your browser cache before you check to see if the domain is working.
If your site doesn't go up after a few hours, contact support@strikingly.com or chat with us and include a screenshot of your domain settings so we can help!
Note: You might have to wait for 24-72 hours for the domain settings to work.