Can I get my YouTube videos to auto-play?
If you want your YouTube video to autoplay, you need to add it using the HTML section. You can check out this help article from YouTube and see how to get the code for the auto-play video.
Once you have the code, follow these steps:
1. On your site editor, click "Add a new section" from the left panel menu.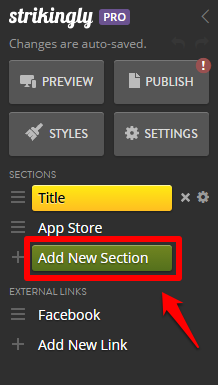 2. Select App Store and HTML from the section list.
3. After a new section is created, mouse over the box and click Edit/Update.
4. Select HTML from the app list.
5. From YouTube, click on share >> embed >> copy the code.
6. Paste the code on Notepad. Add "?rel=0&autoplay=1" after the video ID
7. Copy the code and paste it on the HTML app box then hit "Save".

In case you need assistance, shoot us a line at support@strikingly.com or chat with us.