Facebook Pixel is an analytics tool that lets you track visitors' conversion points on your site for Facebook Ads. We make the installation incredibly simple! You only need to paste your Facebook Pixel ID into the settings field, and that's it. Normally, the code can be quite difficult to install, as it requires a lot of custom code for all the different events (pageview, signup, view cart, purchase, etc).
The Facebook Pixel integration is a Premium feature available in Pro and VIP plans.
Install Facebook Pixel
Step 1: Get Your Pixel ID from Facebook
1. Sign in to Facebook's Events Manager.
2. Click "Connect data sources".
3. Select "Web" and click "Connect".
4. Enter a name for your pixel and click "Create pixel".
5. Enter your site URL to check for easy setup options.
6. Click "Check" > "Next".
7. Click "Meta Pixel only".
8. Choose "Install Code Manually".
9. Click "Copy code"
10. Paste your code in the notepad or somewhere, and find your Facebook Pixel ID.
In this example, the Facebook Pixel ID is 823067130259512.

Step 2: Enter Your Pixel ID into Your Strikingly Site
1. Go to your Strikingly site editor, click "SETTINGS > "Show Advanced" > "Services".
2. Put your Pixel ID in the "Facebook Pixel ID" box, such as "82306xxxxxxxxx12".
3. Click "SAVE".
4. Publish your site.
That's it! In a few hours, you should see the results of the Pixel tracking in your Facebook Pixel Dashboard. Here's what it'll look like in your Facebook Dashboard. You can see the events coming in!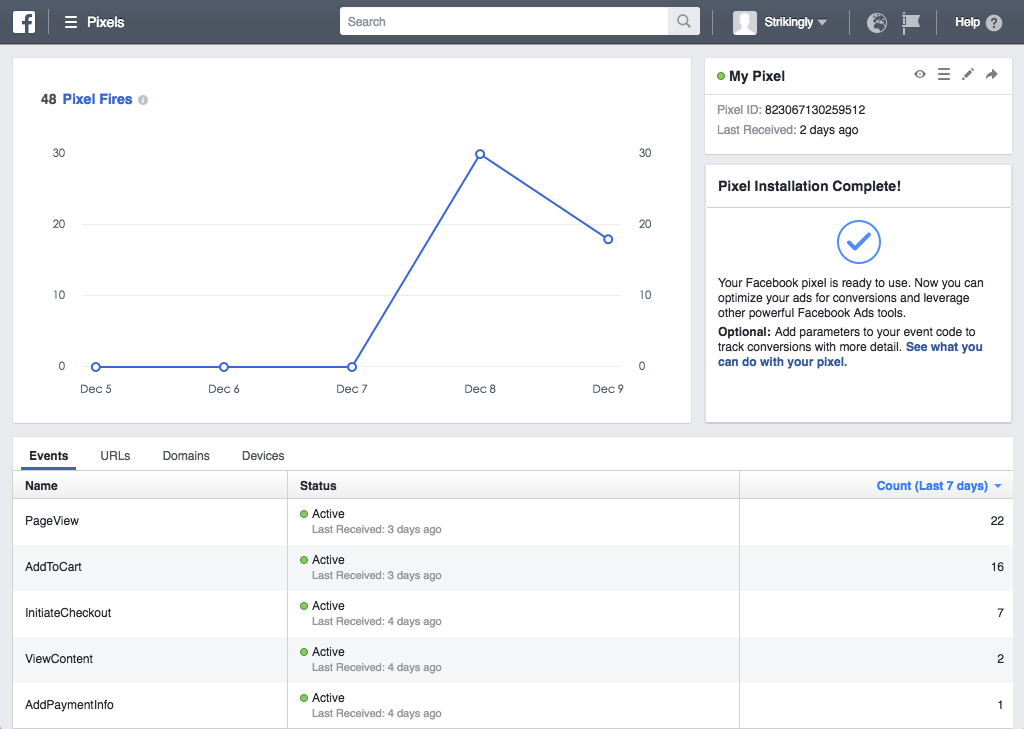 FAQ
1. How can I check if my Facebook Pixel is working?
You can use the test events tool from Facebook or use the Facebook Pixel helper to verify your pixel is working properly.
2. Which events are tracked on my site?
| | |
| --- | --- |
| Facebook Event name | Actions made on your site |
| PageView | A visitor views any page (including blog posts) |
| Lead | A visitor submits a signup form or contact form |
| | |
| --- | --- |
| Facebook Event name | Actions made on your Simple Store |
| AddToCart | A visitor adds a product to the cart |
| InitiateCheckout | A visitor begins the checkout process |
| AddPaymentInfo | A visitor selects a payment method |
| Purchase | A visitor successfully completes a purchase (also tracks value and currency) |
3. Can you track my own events?
Yes, you can add custom events for any other actions on your site. You need to write the code and add it in Settings > Show Advanced > Custom Code > Footer Code. See Facebook's guide for more info.
4. How do I track specific products?
If you run Facebook Ads for specific products, you'll need to enter your product catalog into Facebook manually. Here's a guide on how to do it.
You can find the product IDs for each of your products in your Strikingly editor > Store > Products:
After you've created your product catalog, associate your Pixel with your product catalog like this:
Have some questions? Shoot them at support@strikingly.com or chat with us.